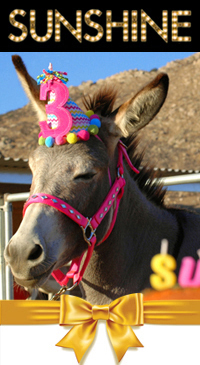 Full Name: August Sunshine
Date of Birth: August 01, 2011
Sex: Female
Location of Rescue: Colton, California
Meet August Sunshine, our VERY special resident at Donkeyland. Why is she so special? August Sunshine, Sunshine for short, was our very 1st surviving orphan to be rescued at DonkeyLand. At just a few days old, while free-roaming in the wild with her mommy and her family, someone on a dirt bike started racing through the hills and chasing the herd. When the herd scattered, poor little Sunshine couldn't keep up and was separated from her mommy. A local resident called Animal Control, despite a search, mommy and herd were gone. This is heartbreaking because the mommies mourn their babies. The Animal Control officer brought little Sunshine to DonkeyLand. Since it was the first week of August, she was named August Sunshine. Newborn orphans, are very fragile and need around-the-clock care. We slept with Sunshine in her barn, bottle feeding her every hour around-the-clock for the most critical first six months of her life. It was a rough summer for babies. While Sunshine flourished, others were not so fortunate. We rescued baby after baby that summer, Sunshine would get a ray of hope every time she believed she had a friend for life, but despite our best care and love, Sunshine was our only surviving wild burro baby that summer. She was sad and lonely.
Today Sunshine is the boss at Donkeyland. She is surrounded by friends, loves to run and play. Donkeyland became what it is today, for the love of one little donkey. Thanks to Sunshine, Donkeyland has gone on to save many lives and educate people on the intelligence and beauty of these loving creatures. Together we have rescued, rehabilitated and released back to the wild many cuties who would not have made it without all of us. We are a FUREVER home for those who could not be returned back to the wild. In return we have learned so much from these remarkable compassionate creatures. Thank you Sunshine, you inspired us to do great things for your wild burro family.
On August 01, 2011 our 1st surviving orphan August Sunshine was rescued from Colton, California.
On August 12, 2016 land was acquired in Colton, California and paid in full by Mr. Bob Barker. Big dreams come true for a little orphan. August Sunshine will soon be moving into her forever home, returning back to the exact area she was born and rescued.