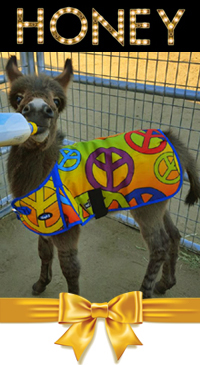 Full Name: Honey Bear
Date of Birth: March 31, 2016
Sex: Female
Location of Rescue: Moreno Valley, California
If only you could have seen the joy on Honey's face and the hope that lit up in her innocent eyes when help arrived. At two days old her mother was killed in a car accident and baby wandered around desperately seeking help. As an emergency rescued orphan, we rushed her to the hospital for a check-up and to do some blood work so we knew if she got her mother's colostrum or her first milk. This is very important and may mean the difference of life or death to a baby orphan.
Honey spent over two weeks in Reche Canyon in her foster angels care, being bottle fed around-the-clock to get her through the most critical first six months of her life. But Honey wasn't behaving there. She really wanted to be at DonkeyLand. She was having temper tantrums and misbehaving. She even escaped her barn and had everyone searching for her. So, Honey was brought to us earlier than originally planned. She started to behave and grow into a beautiful little girl.
She was soon adopted by a wonderful family in Reche Canyon and then it started all over again, bad behavior, ears pinned down, temper tantrums and because our goal is a forever home – title does not transfer, meaning with a guarantee that in the event the family can no longer care for the donkey or burro or in Honey's case it didn't work out, the animal can safely be returned back to DonkeyLand. A new addition is always welcome at Donkeyland and today we welcome Honey back home.
Honey will have one more road trip to Reche Canyon, making it her 3rd adventure there, but this time she will be moving with her friends and family to their forever home that Mr. Bob Barker has purchased for them.