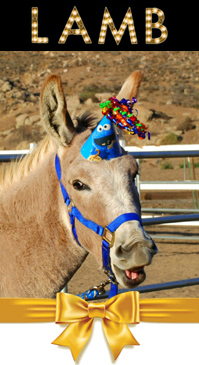 Full Name: Lamb aka Little Cookie Monster
Date of Birth: October 31, 2012
Sex: Male
Location of Rescue: Colton, California
Will you SPONSOR Lamb?
A beautiful fluffy little Lamb and our "YouTube Superstar" with almost TWO MILLION VIEWS. Lamb thrives on attention and plays with his ball everyday rain or shine. Sometimes he's so silly. He'll stroll right alongside you, well, just like a little Lamb. One minute, he's just a happy sweet little Lamb and the next he can be a real handful.
Imagine being rescued from the wild as a newborn baby, loved and part of a family, then pushed back into the wild with no survival skills. Lamb came from a home that said they rescued him but just didn't want a donkey anymore, so, they tried to return him back to the wild several times but he just wouldn't leave. Sadly, this is what happened to Lamb when he was a baby.
When Lamb arrived to DonkeyLand at five months old he had major behavioral issues. He would be considered a difficult to place burro. It can be very dangerous for anyone to be around him because sometimes he tries to charge, nip and bite, then when corrected he starts to suckle and we just hold him. Love conquers all. Today, Lamb loves cookies and punch, parties, sunbathing, photo shoots, playing with all his friends and is never far from his ball.
A LETTER FROM LAMB WITH A HAPPY ENDING
Mom? Dad? Where did you go? It's me, Lamb, and I've been waiting here by our back door for you to welcome me home. I have been thinking why would you load me in the trailer and leave me in the field all alone? Can you believe I found my way home, that was a scary long journey. It doesn't look like my bedroom anymore because all of my stuff is gone but I still remember the way it used to look. Back here in this empty barn is where I used to be bottle fed when you rescued me from the wild. I used to be so loved, I was the center of attention but now my panels and buckets are gone. Are you mad at me?
When you woke up, we used to walk and play together and you laughed when I followed at your heels. Do you remember that? Then you would get my halter and lead rope from the hook on the wall and we'd go for our morning walks. The hook is empty now. All my stuff is gone but I'm still here. When we came back from our walks, we'd snuggle together but now no one even acknowledges me. Are you home? Are we supposed to be playing hide-and-seek like old times? That's still my favorite game but this time, hide-and-seek is no fun. Over here is where I stood and hoped for scraps of food to fall when you fed the horses. Remember? I'm hungry. Are you on your way back for me? But you're coming back, right? You haven't forgotten you have a little donkey, have you? I would come to you but I don't know where you went. I'll just wait here on our little porch. Please hurry, I miss you and I'm scared.
Wait someone is unlocking the back door! Is it you? Did you remember you have a little donkey? Oh, noooo, Mom why are you putting me in the trailer again? I'm going where? To DonkeyLand? What is that? But Mom you promised you would let me stay with our family forever? Oh I know, I'm supposed to find my way back home again? Okay this must be a new game your teaching me. Wow DonkeyLand looks fun. What? They aren't coming back? Are you sure? I thought they loved me. I thought we were a family. What will become of me? Who will walk me and fill my bowls and cuddle me at night? You say I will live at the rescue facility and DonkeyLand Angels will give me the BEST life? I'll have Sponsors? I'll be safe? I'll be loved even when I am old? I'll have furever friends? Toys? Treats? Oh, that does sound nice. Yes, I think I would like that very much.
I currently need donations for my groceries, hoof care and my yearly check-up. Do you have a few dollars you could spare? I hate to ask but I really need your help. I don't have any money of my own and I guess my family doesn't want me anymore so could you spare a little for me? I'd really appreciate it.
I so badly want DonkeyLand Angels of my own, for as little as $10.00 a month you could be my DonkeyLand Angel by sponsoring me or you can make a onetime donation for any amount today.
I wool always love ewe!
XOXOXOXOXOXOXO